8 Point Power Post
| | | |
| --- | --- | --- |
| | | |
| 77837N02 (3/8" Post) | | 77831N14 (5/16" Post) |
---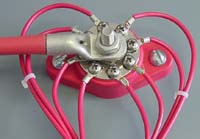 77831 with cable connections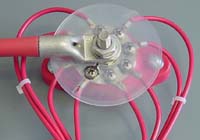 Covered with 479A Terminal Insulator
Create reliable, trouble-free circuit paths to control systems
Hook up negative return lines to single cable
Connection plate made from nickel-plated copper which gives 40% better conductivity than tin-plating
Max Amperage: 160 amps @ 12 vdc - 20 amps per connection
Max Voltage: 48 vdc
Available Post Sizes : 1/4" (~6mm), 5/16" (~8mm), 3/8" (~10mm)
Available in multiple stud heights (optional)
Available Base Material : Glass-Filled Nylon
Connection post made from stainless steel
Connection nuts made from zinc-plated copper
Eight stainless steel #8-32 connection screws
Mounting Center: 2.5 in
Our Power Distribution Posts are Pre-Engineered to protect against accidental shorting.
Use with terminal insulators to meet ABYC-E9, USCG 33 Subpart I, and ISO 10133.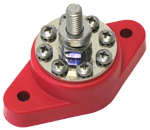 77831N02
8 Point Powerpost w/ 5/16" Post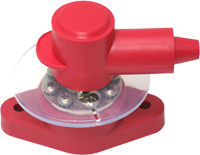 77837FN02
Powerpost with Insulators
---
Insulation Pack
VTE also offers insulator packages for our 8 point distribution post. We offer these packages in 1, 2, or multiple cable entries.

Included in each package is an insulator cap to protect against accidental shorts, a clear insulator disk, and an extra spacing conductive nut, to raise the terminal position.
Packaging 1 - (1 cable) :

Part Num
Use With
Color
Extra Nut
Disk
Cap
778N15
77825N02
Red
1/4" 6.35 mm
479A
228N3V02

778N15 (1 cable)
778N16
77825N14
Black
1/4" 6.35 mm
479A
228N3V14
778N17
77831N02
Red
5/16" 7.92 mm
479A
228N3V02
778N19
77831N14
Black
5/16" 7.92 mm
479A
228N3V14
778N18
77837N02
Red
3/8" 9.53 mm
479B
228N3V02
778N20
77837N14
Black
3/8" 9.53 mm
479B
228N3V14

Packaging 2 - (2 cables) :

Part Num
Use With
Color
Extra Nut
Disk
Cap
778N21
77831N02
Red
5/16" 7.92 mm
479A
956D9V02

778N21 (2 cable)
778N23
77831N14
Black
5/16" 7.92 mm
479A
956D9V14
778N22
77837N02
Red
3/8" 9.53 mm
479B
956D9V02
778N24
77837N14
Black
3/8" 9.53 mm
479B
956D9V14
---
USA Factory / Headquarters
European Headquarters
Local Distributor (US)
VTE Inc.
5437 Robinson Rd
Pellston Mi 49769
United States
PH: 1.231.539.8000
FX: 1.231.344.5914
Email: info@vteworld.com
www.vteworld.com
VTE Europe BV
Trapgans 8 J
Ankeveen 1244RL
Netherlands
PH: 035-6565560
FX:
Email: info@vte.nl
www.vte.nl
VTE Warehouse
5437 Robinson Rd
Pellston MI 49769
United States
1.231.539.8000
1.231.344.5914
info@vtewarehouse.com
www.vtewarehouse.com