Copper Core Power Bushing
VTE has developed an innovative and unique solution for passing current through a barrier. Our Copper Core Power Bushing brings new features, low cost and ease of use to your current passing projects.
Our Copper Core Power Bushings have been designed with these key components in mind:
High Energy Transfer
High Torque
High Anti-Rotation
Weatherproof Available
Low Product Cost
Low Assembled Cost
Also available in Metric M10
High Energy Transfer

High Torque

High Anti-Rotation

Weatherproof Available

Low Product Cost

Low Assembled Cost
---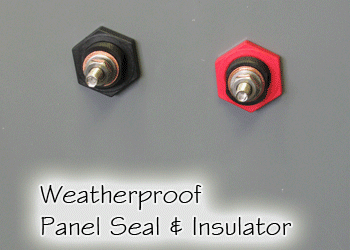 For panel thickness up to 13/32"
Easy to assemble and install
Very low cost
Copper Core SAE Max Amperage:

Peak: 550amp @ 12vdc (6.6kw)
Duty Cycle: 80%

Copper Core Metric Max Amperage:

Peak: 450amp @ 12vdc (5.4kw)
Duty Cycle: 80%

Max Voltage: 48 vdc
Availabe in Red & Black
Bushing Material : Glass-Filled Nylon
Post Material : Nickel Plated Mild Steel
Fastener (nut) Material : Stainless Steel
Use second panel nut (359N) for high dynamic loads Panel thickness up to 3/16"
---
Use Terminal Insulators to comply with industry standards
258N Series Insulator
Multiple 4/0 ga (120mm2) cable
Meets IP65 weatherproof rating
Meets ISO, ABYC & USCG Safety Requirements for energized terminals
956N Series Dual Insulator
Dual 3/0 ga (81mm2) cable
Meets ISO, ABYC & USCG Safety Requirements for energized terminals
795 Multiple Cable Insulator
Multiple 3/0 ga (81mm2) cables
Meets ISO, ABYC & USCG Safety Requirements for energized terminals
---
---
USA Factory / Headquarters
European Headquarters
Local Distributor (US)
VTE Inc.
5437 Robinson Rd
Pellston Mi 49769
United States
PH: 1.231.539.8000
FX: 1.231.344.5914
Email: info@vteworld.com
www.vteworld.com
VTE Europe BV
Trapgans 8 J
Ankeveen 1244RL
Netherlands
PH: 035-6565560
FX:
Email: info@vte.nl
www.vte.nl
VTE Warehouse
5437 Robinson Rd
Pellston MI 49769
United States
1.231.539.8000
1.231.344.5914
info@vtewarehouse.com
www.vtewarehouse.com